Don't Go Snaring My Heart
by Jacquie Rogers
A 15,000-word story in
Lassoing a Groom
Alone in the high-mountain desert, self-sufficient Betsy Lynch is determined to eke out a living selling goat cheese while she fulfills her father's dream to find a rich silver lode. Claim jumpers threaten to take everything she holds dear, so Betsy uses a bullwhip, her wiles, traps, goats, and an attack rooster to defend her land. Can rancher Dex Madsen get past her killer chicken to help save her mining claim and win her heart?
A Flare of the Heart
by Jacquie Rogers
A 10,000-word story in
Hearts and Spurs
Celia Yancey heads west to marry a preacher her father picked for her, but her dreams are dashed when the stagecoach is held up before she can get to Silver City for the wedding. Bounty hunter Ross Flaherty has traded his guns for a pitchfork and is content to be a farmer, but Celia brings his old nemesis right to his door. Can Celia and Ross shed the past and forge a new beginning?
A Gift for Rhoda
by Jacquie Rogers
A 10,000-word story in
Wishing for a Cowboy
A mail-order bride disaster! Rhoda Johnson is stranded in a lonely cabin without a groom. The townsfolk say she's better off without him, but her drunken groom sends a message that he'll claim her as his Christmas bride. Gunman and ex-Confederate soldier Nate Harmon comes to Idaho to make peace with his abolitionist preacher father. When half-frozen Nate reaches the cabin on a snowy Christmas Eve, instead of his parents, he's greeted by a pretty blond with a shotgun who keeps calling him Mr. Snyder. Will she shoot him, or melt his heart?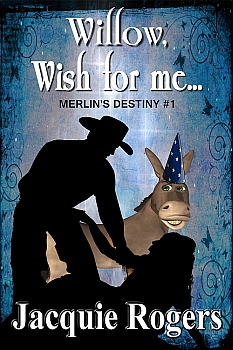 Willow, Wish For Me
by Jacquie Rogers
A 15,000-word novella
(single read)
Merlin reappears in the Old West...
as a mule!
Willow escaped her life as heiress Eleanor Winthrop-Douglas and is now a happy herb farmer, but she's lonely. When making a frivolous wish upon a star, she sees a man who became her heart's desire. One day, as she was hoeing weeds, that very man rides up on a mule! But he's not the man of her dreams--instead, he's been hired to hand her over to the one man she despises--her ex-fiance. How could Willow's wish go so awry?