Nail It!
The Secret to Building an Effective Fiction Writer's Platform
Level 1: Laying the Foundation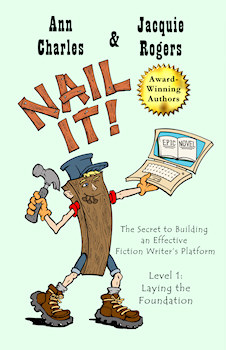 Available at:
Amazon
Barnes & Noble
Smashwords
"Authors LISTEN UP:
* If you're puzzled how or why you have to promote your image...
* If you question the importance of sharpening the way you appear to your readers...
* If you're not sure how critical it is to brand your image as an author...
Then you need to sign up for Jacquie Rogers & Ann Charles NAIL IT!"
- John Klawitter, Hollywood writer/filmmaker and author of TINSEL WILDERNESS and the HOLLYWOOD HAVOC novels.
Writing a great story is no longer enough to land a contract. With economic downsizing, publishers are extremely selective when it comes to acquiring authors, often allowing their marketing and sales department to have the final say. These days, it takes a platform that is equal to the story in excellence and potential-a complete package-for you and your book to make it through the acquisitions gauntlet.
For the first time, fiction authors have a platform reference guide written just for them. Nail It! The Secret to Building an Effective Fiction Writer's Platform uses motivating and enlightening lessons, author interviews, and several examples to explain how to build a fiction writer's platform that will impress publishing professionals and clear a path to success.
"Every author should be devouring this series. I've used these tools to build my burgeoning career. Learn it. Live it."
~ Amber Scott, co-author of Dollars & Sense: The Definitive Guide To Self-publishing Success
"Every new author needs to know the tools necessary for successful promotion. Nail It! has the whole kit and caboodle." ~ Meg Mims, author of Double Crossing, Astraea Press, August 2011
Growing Your Audience
For Published, Unpublished & Under-Published Writers


Available soon at:
Amazon
Barnes & Noble
Smashwords

The publishing industry is morphing every day, and the internet brings a new dimension to the concept of audience. A shotgun approach worked for decades, but this technique becomes more expensive and less viable every month. Today's bad news: no one will find your readers for you. Today's good news: you have more options than ever in history to build your own fan base. Finding those readers who want to buy your book lets you stop wasting time and money, and instead tailor your marketing and promotion techniques directly to them. In this book, you'll learn:

* What writers CAN do to open new doors
* Reasons and benefits for targeting an audience
* Innovative audience-building techniques used by online marketers
* Specific niches to find your potential readers
* How to approach and build rapport with your audience
* Making your website "What's In It For Me"-friendly