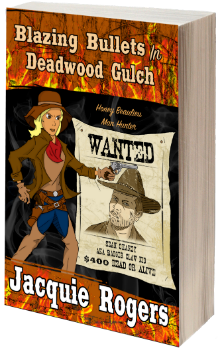 Kindle | Print | iBooks | Nook | Kobo | Page Foundry | Scribd | 24Symbols | Playster


FIVE STARS!

This story is fast paced and so much fun to read. There are new secondary characters, such as Louie Lewie who gets his walnuts stolen. ('A feller's gotta have his nuts.') Readers will learn a little more about Roscoe's past and a few of the rules that ghosts must obey. Honey also meets Sam's parents in Deadwood Gulch, where they own a mercantile.

Honey is bold, witty, smart, and able to think fast and outside the box. Outstanding entertainment such as this can only come from the imagination of Jacquie Rogers.

Huntress Reviews
Reviewed by Detra Fitch


Gritty! Funny!
She's Honey Beaulieu!
Honey Beaulieu, the heroine you always wanted to be!


Wanted: Sean Chaney aka The Badger Claw Kid, $400, Last seen in Deadwood Gulch

That money would sure help buy the farm Honey needs, and she plans to capture Chaney and claim the bounty.

She's Flummoxed
But first, she has to take care of a town urchin who shot her in the butt with a slingshot! Does she have to spend her last nickel to buy a building for Emma's sewing shop? And who stole Louie Lewie's nuts?....

She's Fired Up
Nothing gets Honey down--not pesky ghosts, not the despicable Badger Claw Kid, not Al Swearengen and his hired muscle, and not even a catastrophic town fire. But can she capture Boyce McNitt, who eluded her in her last adventure? And can she get Sam's folks to safety?

She's Fearless
When Sean Chaney persists on robbing folks and putting his badger claw marks on them besides, she sets out to bring him in... and collect the bounty

Deadwood Gulch is in flames but Deputy U.S. Marshal Sam Lancaster's hotter!


Don't miss this rollicking ride into the Old West - get your copy of Blazing Bullets in Deadwood Gulch today!
"A rip-roaring ride that will leave you hootin' and hollerin' and ready for more! Honey and her entourage of hilarious animal sidekicks are back again for another kickass round of action, adventure, and fun while on the hunt for more of the Old West's wiliest outlaws!" Ann Charles, USA Today Bestselling Author of the Award-winning Deadwood Mystery Series

"Loved the first story in this new series. It's a fact that nothing is sweeter than Honey. She'll seize your interest while she captures her prey—you'll root for her on every page. I can't wait for the next book!" Caroline Clemmons, author of the Stone Mountain series and many more

"Fans of Rogers' Western Historical Romances may recognize Honey Beaulieu as the heroine of the Dime Novels eagerly devoured by her Hearts of Owyhee heroines. This is the real Honey, living in the unvarnished West, and filtered through Rogers' unique sense of humor. Reading a book this much fun is downright illegal!" Judith Laik, author of The Unsuitable Bride series

"Love this series! Honey is one of my favorite historical western characters. Jacquie Rogers writes with humor, and Honey and her animals keep me chuckling with their antics. I hated for the story to end and cannot wait for the next book to release!" Loves to Read, Amazon reviewer