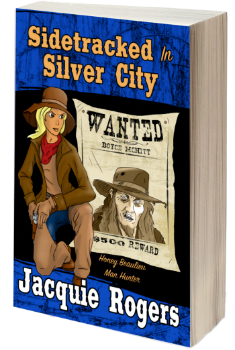 Kindle | Print | iBooks | Nook | Kobo | Page Foundry | Scribd | Smashwords

Book 3
Blazing Bullets in Deadwood Gulch
Coming soon!


"Love this series! Honey is one of my favorite historical western characters. Jacquie Rogers writes with humor, and Honey and her animals keep me chuckling with their antics. I hated for the story to end and cannot wait for the next book to release!" Loves to Read, Amazon reviewer


Gritty! Funny! It's Honey Beaulieu!
Honey Beaulieu, the heroine you always wanted to be!

Wanted: Boyce McNitt, $500, Last seen in Winnemucca, Nevada

That money would sure help buy the farm Honey needs, and she plans to capture McNitt and claim the bounty.

She's Determined

But Mama's in jail! Honey has to do some fast talking to head out of Fry Pan Gulch to chase after Boyd McNitt....

She Defies the Odds

Honey's not about to let the handsome deputy U.S. marshal, an obnoxious ghost, or her own stubborn mule get in her way.

She's Daring
Sam's in trouble! Honey's good with a gun but how many men can she best?


Don't miss this rollicking ride into the Old West - get your copy of Hot Work in Fry Pan Gulch today!
"This is the second book in Jacquie's Honey Beaulieu series and I have loved them both! This series is a totally unexpected treat! This is not your typical historical novel on the old west. Honey is such an endearing, down to earth, say it like it is character that you just want to keep reading about her and her adventures as she finds her place in a man's world! I hope that there are many more books to come in this series!" Jo Ann Reinhold

"This is the second story of Honey Beaulieu and was as great as the first. It is full of crazy characters (some alive and some ghostly) and animals that fill Jacquie's stories with fun. These are not the normal barnyard variety. Honey is trying to collect a bounty to buy a property to let her friend Emma have a home to have her baby, but as usual nothing quite goes as easy as Honey plans. This a story that would make a bad day feel not so bad and give you some laughs along the way. I highly recommend it." Lynda McCoy

"Wooo doggies, the second book in the Honey Beaulieu series was a wild ride!! From the old west speak to the descriptions of the people and places, Jacquie makes the old west come alive. I felt like I was living in the old west and riding right alongside of Honey. Jacquie writes fast paced books that keep you wanting to know what happens next. There is a little drama, a little romance, and a lot of laughter. If you haven't read any of her books yet, I dare you to try the Honey Beaulieu series and not have a rollicking good time!" Terry Gregson




Keep up with the latest news about Honey Beaulieu.
Visit Honey's blog!